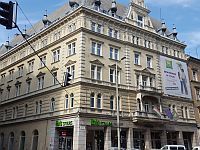 ✔️ Ibis Styles Budapest Center
1074 Budapest, Rákóczi út 58.
Phone: 00-36-1-2279614
Hotel video
Ibis Styles Budapest Center is a fully renovated 3 star hotel located in the bustling city-center of Budapest. This hotel, which has 130 rooms, 2 meeting rooms and a snack bar is suitable both for business and leisure travellers. An unforgettable experience - welcoming, cosy athmosphere together with a taste of the continent's first underground with decorating symbols of the stops in the lobby and on the corridors.