✔️ Hotel Mercure Budapest Korona ****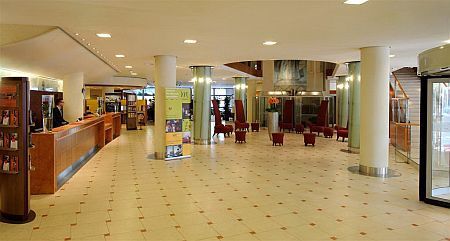 Mercure Budapest Korona **** Hotel Mercure Korona Budapest
Mercure Budapest Korona is situated in the heart of Budapest, opposite the National Museum, with easy access to cultural and tourist attractions. It's about 5 minute walk to the river Danube.
Hotel Mercure Korona Budapest rooms:
Mercure Budapest Korona has 421 sound-proof rooms with air-conditioning, bathroom, colour TV with satellite channels, Pay video-programmes, phone, safe, electronic security key system, PC-connection and minibar. There are 244 rooms for non-smoking guests.
Mercure Budapest Korona - Gastronomy:
Restaurant Tokaj: offering Hungarian and international specialities, weekdays business lunch (lunch buffet) for businessmen, with piano-violin music in the evenings.
Bridge Café: connects the two parts of the hotel with an exciting view of the busiest square in the City and the Kecskeméti utca. Offers coffee and confectionary specialities.
The Lobby Bar of Mercure Korona is welcoming the guests with a wide range of cocktails in the piano bar.
Mercure Budapest Korona - Other services:
Protected pay-parking facilities for 130 cars, indoor swimming pool, free entrance tickets to the casinos near the hotel.
Mercure Korona Budapest - Meeting facilities
Mercure Korona has 10 rooms with a max. capacity of 10-110 people. The restaurant is perfect for organizing receptions, company and other functions.
Local sights:
City, National Museum, Museum of Applied Arts

Other hotels in Budapest operated by the management: